Workforce Risk Management and Compliance to the new Aged Care Standards
19 Jun 2019
Care Advantage Psychometric pre-employment screening: A low-cost process supporting the key Aged Care compliance requirements of Quality of the Service and Safety of the Service.
​The government has been very clear in the establishment of its new regulator and compliance standards, as well as the terms of the Royal Commission, that its commitment to Quality and Safety is the foundation of the Aged Care system it is seeking to build.
Safety of the Service
​In relation to safety, the traditional workforce risk agenda has focused on Misconduct. This is seen in the mandatory police checks as part of pre-employment screening and more recently, the calls to establish a registration process for frontline care and support roles.
Quality of the Service
In relation to quality, the emerging workforce risk agenda will focus on performance, based on employees suited to the sector, armed with the skills necessary to deliver an engaged and responsive service. Referencing comments by Ian Yates (Cota) in relation to the Royal Commission "A lot of what we are seeing is safe care, but it is not meeting the needs of modern Australia".
Performance risk is not about misconduct, it is about (at times) deliberate and more often, casual neglect, lack of empathy, or the lack of personal interaction that impacts clients and residents. The Workforce Strategy Taskforce reported feedback from the sector that somewhere between 20% – 30% of existing employees were not suited to a care environment. This is principally where performance risk is found.
​The challenge to providers around Performance Risk will be seen most clearly in 2 areas:
Compliance
Satisfying the Provider responsibilities and Consumer needs/expectations requirements of the Standard. Specifically Standards 1, 7 and 8.
Competitiveness
The transparency evolving within the sector dictates that a Provider's perceived performance will have a direct impact on sustainability. The "open market" forces introduced by the government is a deliberate part of its sector change strategy.
Address workforce risk with Care Advantage
Care Advantage pre-employment assessments are being used extensively within the sector to address Performance and Misconduct risk and its impact on Compliance, Operational and Commercial outcomes.
Our users, some of whom assess over 1000 applicants per month, have a clear process that readily demonstrates a critical part of their approach to provide an effective and reliable workforce through:
Identification of "fit for purpose" employees suited to the sector (Quality of the Service)
Risk identification for job applicants – specifically misconduct risk (Safety of the Service)
Misconduct Risk (Safety)
The Care Advantage Attitude assessment specifically addresses Safeguarding risk  by identifying candidates presenting with higher than desired risk profiles in the areas of Hostility, Dependability and Integrity. Numerous clients see this as a key part of their workforce risk management agenda and a clear demonstration that they are, as part of a contemporary recruitment process, taking all reasonable steps to ensure against misconduct.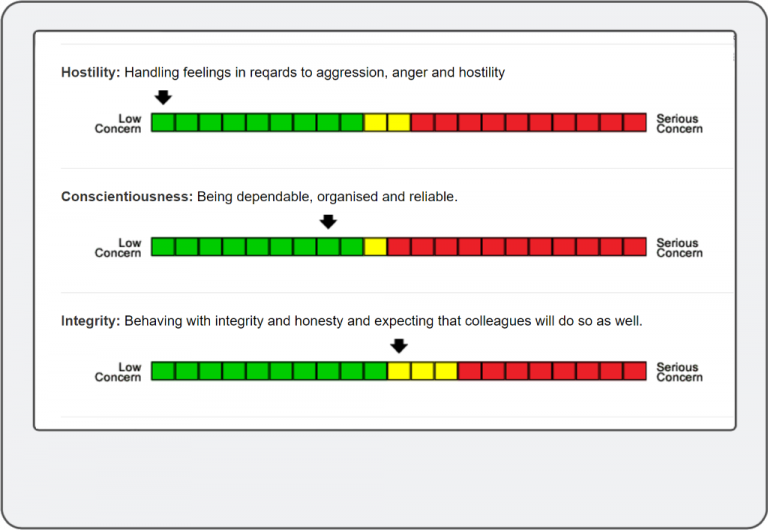 Performance Risk (Quality)
The Care Advantage Personality assessment looks at key personality traits such as resilience, interpersonal preferences, conscientiousness, emotional stability and team orientation. The assessment provides a short report and visual representation of the personality profile which is then compared to a benchmark profile of "good performers" in the same role. Benchmarks exist for 40 care and related roles. The result of this comparison against the chosen benchmark is expressed as the applicant's job fit score (%). Most users set a standard (e.g. >75% job fit result) for applicants to proceed.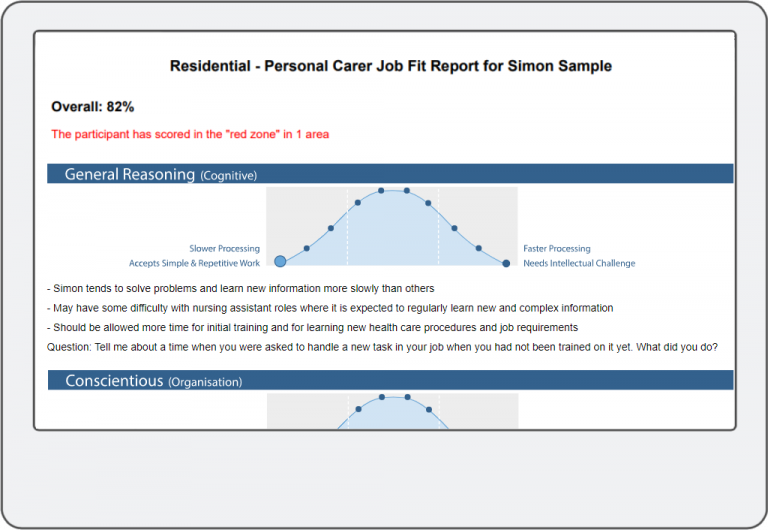 Talk to us about how our pre-employment assessments can help address the new Aged Care Standards, specifically Standards 1, 7 and 8.