The Assessments
and Reports
There are four Care Advantage Assessments:
You choose which ones to use
The assessments are completed online, mobile-friendly and set at age 12 reading level. The results provide a more complete picture of your candidate's personal attributes and soft skills, before you decide.
Each assessment takes approximately 7 minutes to complete.
Most clients only use the Personality and Attitudes assessments for frontline roles.
Measures your applicant's key personality traits and compares them against a benchmark of high performers in the same role. This results in an individual job fit score.
The Personality Questionnaire is based on the well-accepted Five-Factor model of core personality traits:

Work Style –
Conscientious vs. Carefree
Demeanour –
Likeable vs. Tough-Minded
Rule-Abiding –
Unconventional vs. Rules Orientated
Interpersonal –
Extroverted vs. Introverted
Resilience –
Stable vs. Sensitive
The personality/Job Fit Report
Short and visual
Descriptions targeted to the role
Easy interpretation with free training
Highlights areas of concern
With targeted behavioural based interview questions
When to use
Pre-employment screening
Development – Promotion
Vocational job fit
45 questions | 7 minutes (untimed)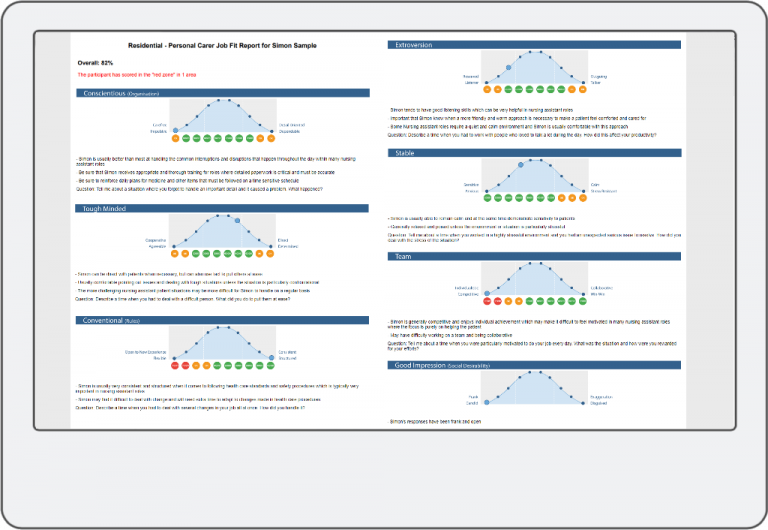 Once the Personality Assessment is completed, the following additional reports can be generated:
Onboarding guide
Training & Coaching report
Leadership Identifier
Leadership – Self-Development
Leadership – Management
Understand if the applicant is more likely to engage in counter-productive work behaviours.
The Attitudes Assessment flags elevated risk in three key areas:
Hostility
(Aggression)
Conscientiousness
(Dependability)
The Attitudes Report
Insight into three counter-productive work behaviours
Plus targeted behavioural based interview questions
Instant insight into risk!
When to use
Pre-employment screening
Risk Management
General employability
27 questions | 7 minutes (untimed)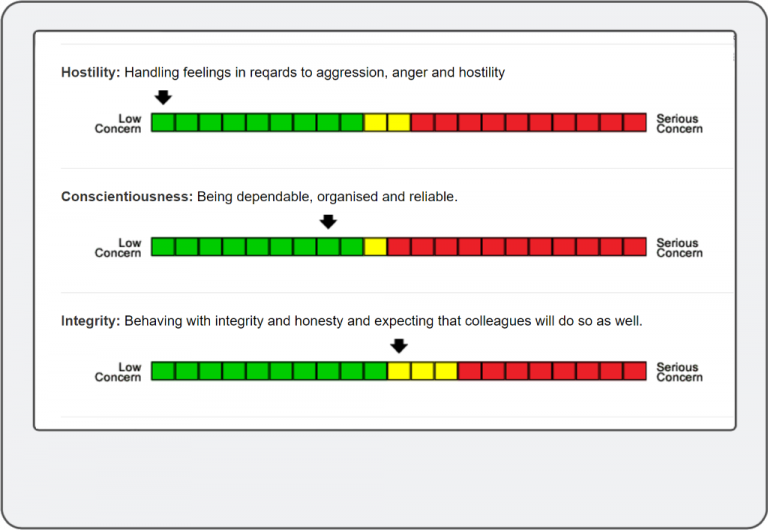 Understanding your applicant's general reasoning capability is a strong predictor of job performance particularily for more complex roles.
If this is important in your selection decision the Cognitive assessment is used to measures problem-solving and learning speed by assessing verbal, numerical and spatial reasoning – combining these to create one overall general reasoning score.

The Personality/Job Fit Report with General Reasoning Score
Insight into general reasoning
For more complex and subject-matter expert roles
When to use
Pre-employment screening
Development – Promotion
Vocational job fit
30 questions | 7 minutes (timed)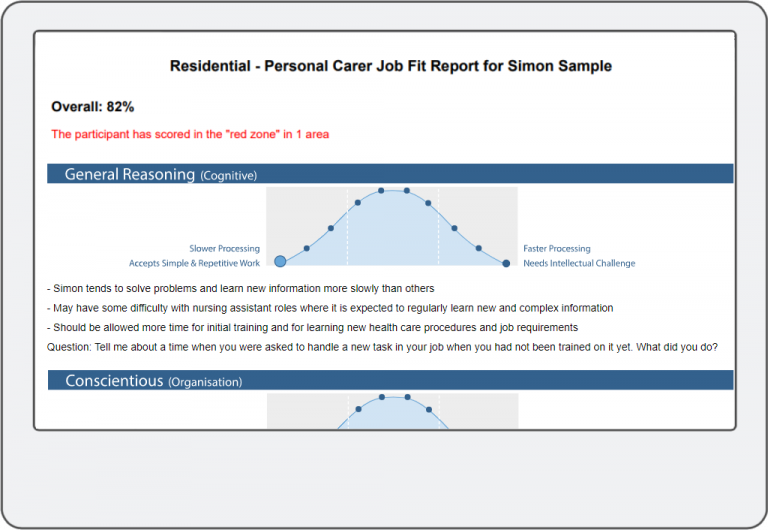 The Engagement Survey measures the current level of commitment an applicant has towards their job and employer.
This provides insight into loyalty and pride as well as motivation. The engagement survey can be used as part of the recruitment process, before the end of the probation period or further down the employment path.
When to use
Pre-employment screening
Probation review
Engagement measurement
30 questions | 7 minutes (untimed)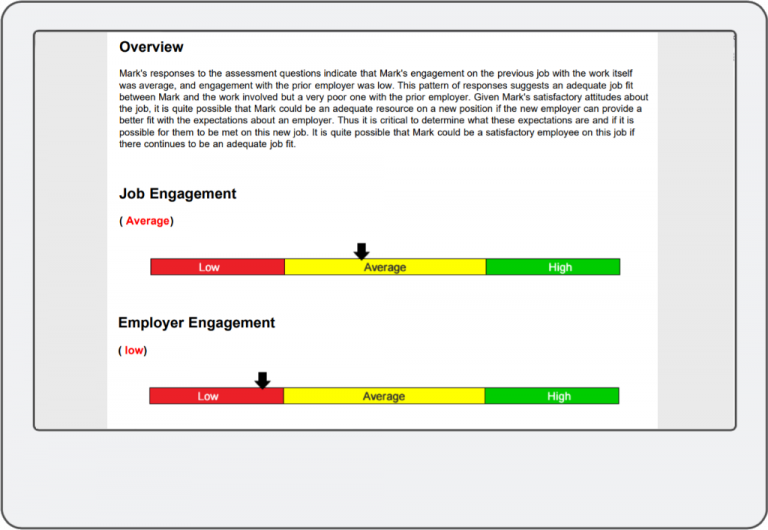 The predictive power of
benchmarking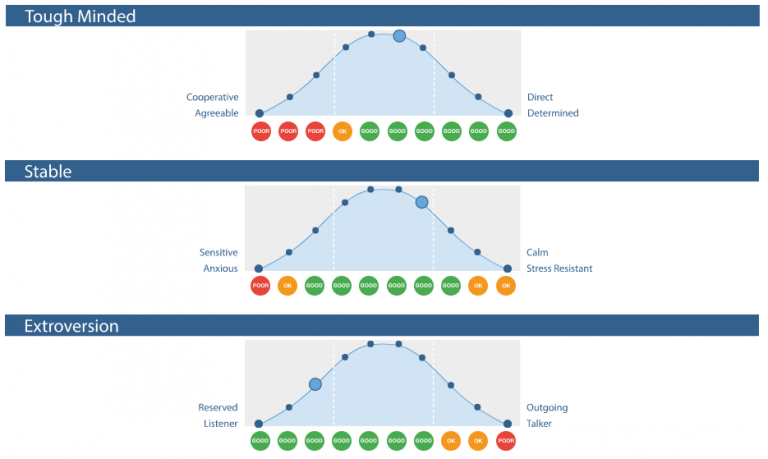 The real value of the Personality assessment
The predictive power of benchmarking lies in the ability to compare your applicants to recognised high performers in the same role.
Our system benchmarks are carefully created by a team of occupational psychologists ready for you to use.
Develop your own benchmark
We can help identify attributes important to your organisation and apply these in a custom benchmark. Compare applicants against your top performers.
Once a candidate is in the platform they can be compared against any available benchmark. This is useful for promotions, lateral moves and other career changes.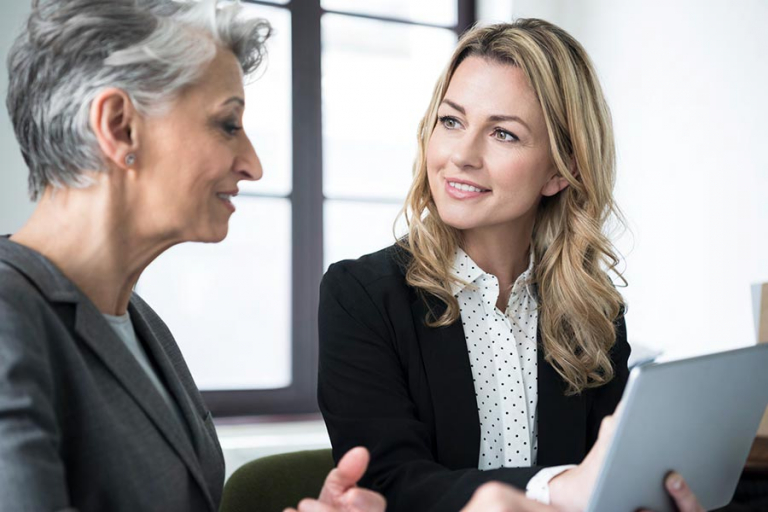 System Benchmarks
You choose what your organisation needs
Additional Reports
Once the applicant has completed the Personality assessment, a wide variety of additional reports are readily available in the platform.
Onboarding Report
Leadership Identifier
Leadership – Management
Leadership Self-Development
Training and Coaching
Feedback Report
Career Trait Profile Report (vocational)
How to interview your next employer (vocational)
How to pick your next employer (vocational)
"Care Advantage provides us with an extra data point that makes selecting a person or a group of people out of a larger group of people that all look quite similar on paper."
Brendan Hall
Group Head of Resourcing, Performance & Reward
"Care Advantage helps to verify and support the belief that carers are born, not made."
Julie Shearman
Director People, Culture & Engagement | Presbyterian Aged Care NSW/ACT
"It strengthens our compliance to have this layer of screening in place."
Christine Spears
Talent Acquisition Manager | BaptistCare NSW/ACT
"Whilst experience is important, we place more emphasis on the personal values and behaviours of the people we are employing, and Care Advantage gives us this insight into the person."
Grant Barrow
Manager Human Resources | Vacenti
"The assessments have helped us to avoid several hiring mistakes."
Alec McConnell
Lead Coach and Founder | Clermont Country Care
"For one of the roles we were able to reduce the shortlisting phase by 2 days and overall during the trial have reduced our recruitment time-frame by about 50%."
Kirsty Furchtenicht
HR Project Lead | MercyCare WA
"What surprised me most was how easy it was to use for our hiring managers and our candidates."
Matt Mulvihill
Manager People & Culture | ECH
"The ability to benchmark a candidate against multiple roles, and therefore leadership potential is also impressive."
Amanda Kontor
Recruitment and Retention Team Leader | Amana Living