Integration with PowerHouse Hub
30 Jul 2021
There is ever-increasing pressure on aged care providers to grow and retain a sustainable and skilled workforce. Sourcing 'suitable' people to work in the sector, understanding their capability, attributes and skills has never been more important.
To help providers solve the challenge of finding, keeping and developing their talent while also meeting compliance requirements, Care Advantage and PowerHouse Hub are proud to launch a solution partnership designed with and for Aged Care providers.

Our partnership with PowerHouse Hub is giving aged care providers access to new recruitment techniques and the ability to build their own Talent Pools. A fresh alternative to current recruitment practices, Talent Pools will help you move away from reactive recruitment and build a proactive, pre-screened candidate pipeline.
PowerHouse Source – Next Level Talent Pools

PowerHouse Source will transform the way you find people. With a simple addition to your current processes, you'll be able to:
minimise your job board and recruitment agency fees
create and manage unlimited talent pools with the ability to promote on social media
link into universities and training organisations to gain access to new graduates in the field
harness the power of local communities and trusted networks by inviting candidates to register
your own private Talent Pools and access public Talent Pools of pre-screened candidates
PowerHouse Recruit – Streamlined efficiency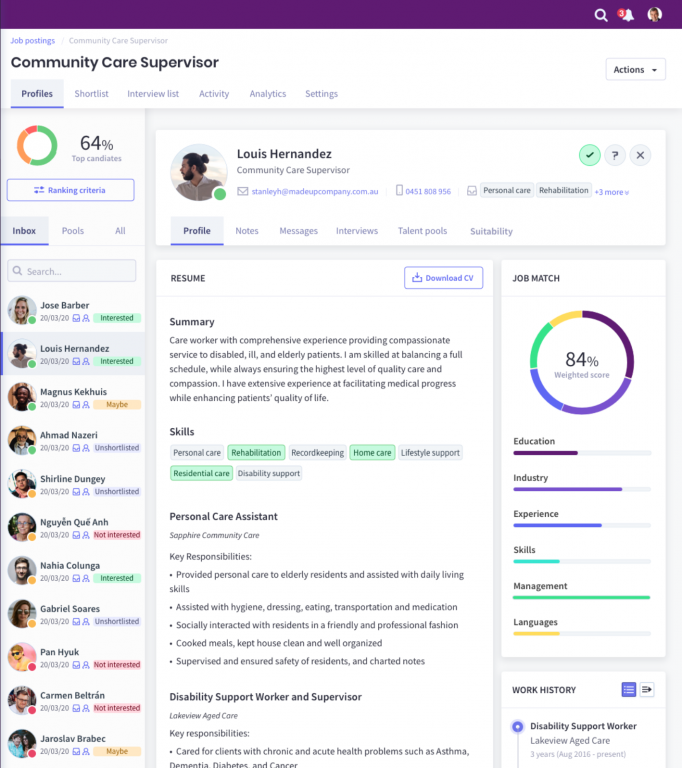 By automating the CV data analysis, you will save time and money on each new hire. The platform gives you the ability to manage hiring processes more efficiently, giving you access to:
shortlisting candidates with smart pre-screening
ranking your CVs with verified data
weighted Job Match Scores
real-time view of candidate progress
All data, including your Care Advantage reports, will automatically upload to each candidate's Workforce Wallet
Real-time reporting
Powerful Features

Powerhouse Hub will support you in discovering new ways to find the right talent and streamlines your recruitment processes with a set of powerful features:
centralised job posts
candidate pre-screening, including the Care Advantage assessments
shortlisting management
candidate communication to manage interviews and shortlisting
the ability to access candidates in pre-screened Talent Pools according to job roles
access to public and private talent pools
Our partners from PowerHouse Hub are here to support you in adopting new ways to attract talent and build your future workforce. The Power House Workforce platform is a simple extension to your current process with seamless access to suitability screening and candidate data.
Contact PowerHouse Hub to learn more about this transformative solution