The purpose of the 30-day trial is for you to get a better understanding of the Care Advantage platform and assessments. It helps provide clarity around how it can be most effectively used in your organisation and the benefits it can provide. The demonstration is obligation free and at no cost to you.
Choose Roles
We will start by identifying one or two roles that you will be recruiting for. Preferably a high-volume frontline care role.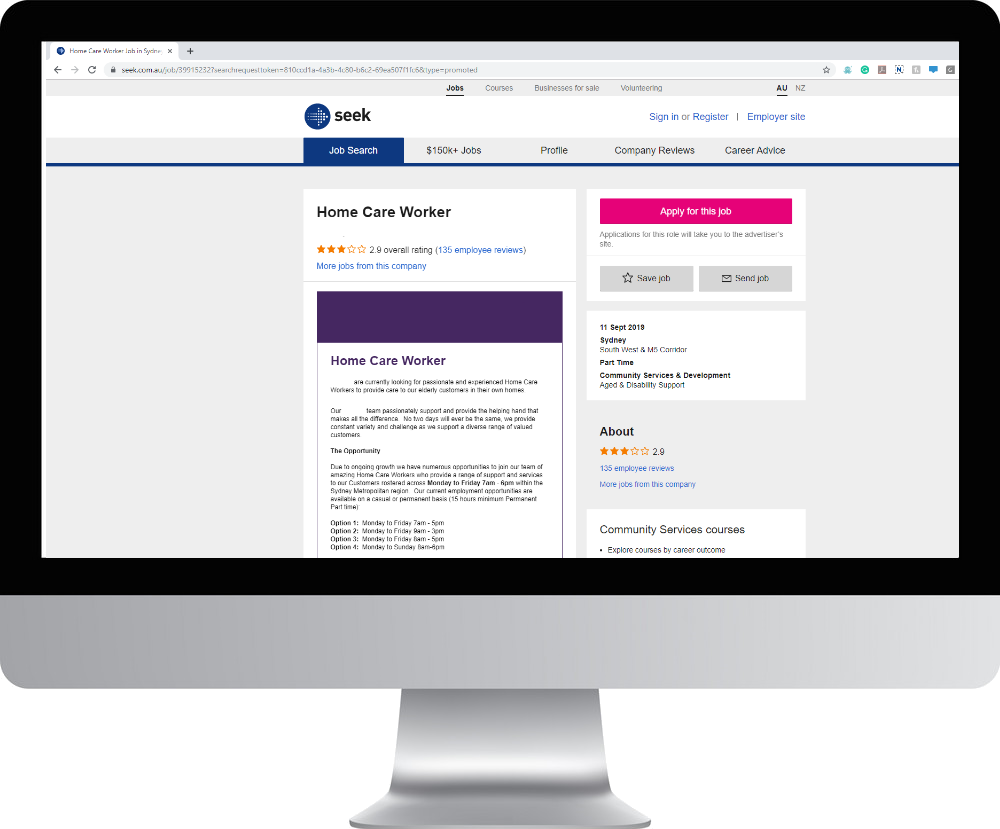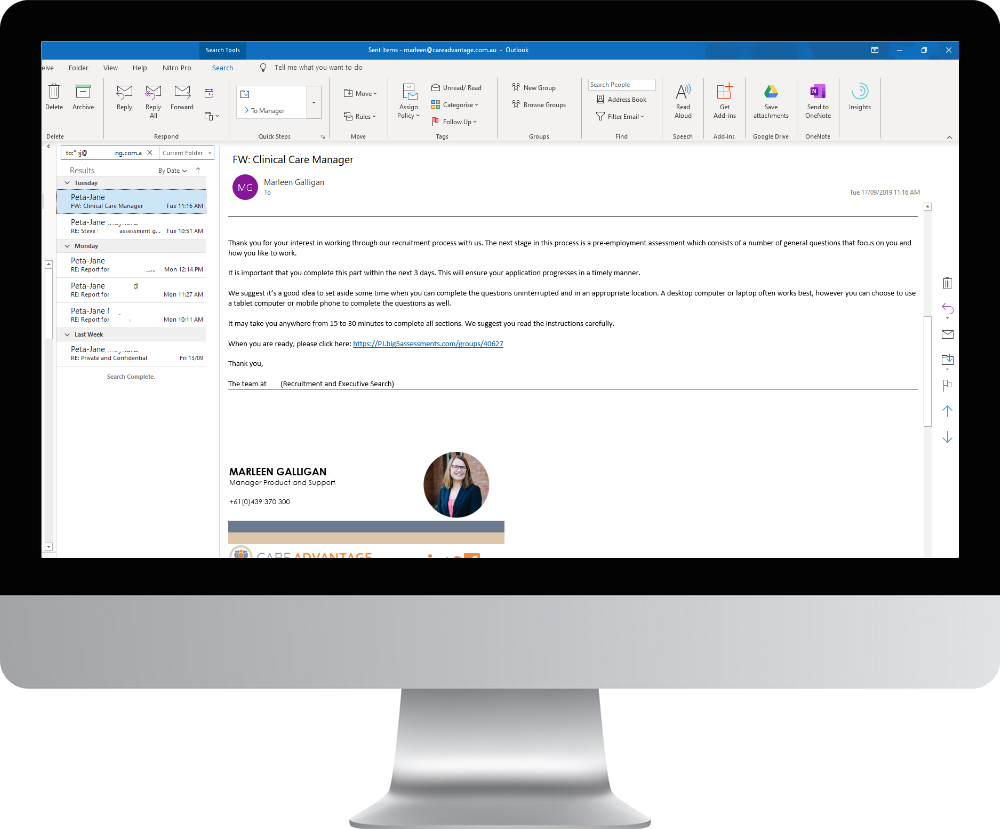 Invite Applicants
We will then create an assessment event for you and give you an email template with a special link to this event to send to your candidates, inviting them to complete the assessments.
Send the email via Seek, your ATS, your email or whatever way works for you. Preferably soon after candidates have applied.
Want to trial on shortlisted candidates only? No worries, that is fine too. Maybe we can do both.
Complete Assessments
Your job applicants will click on the link and complete the assessments (takes them just 15 minutes).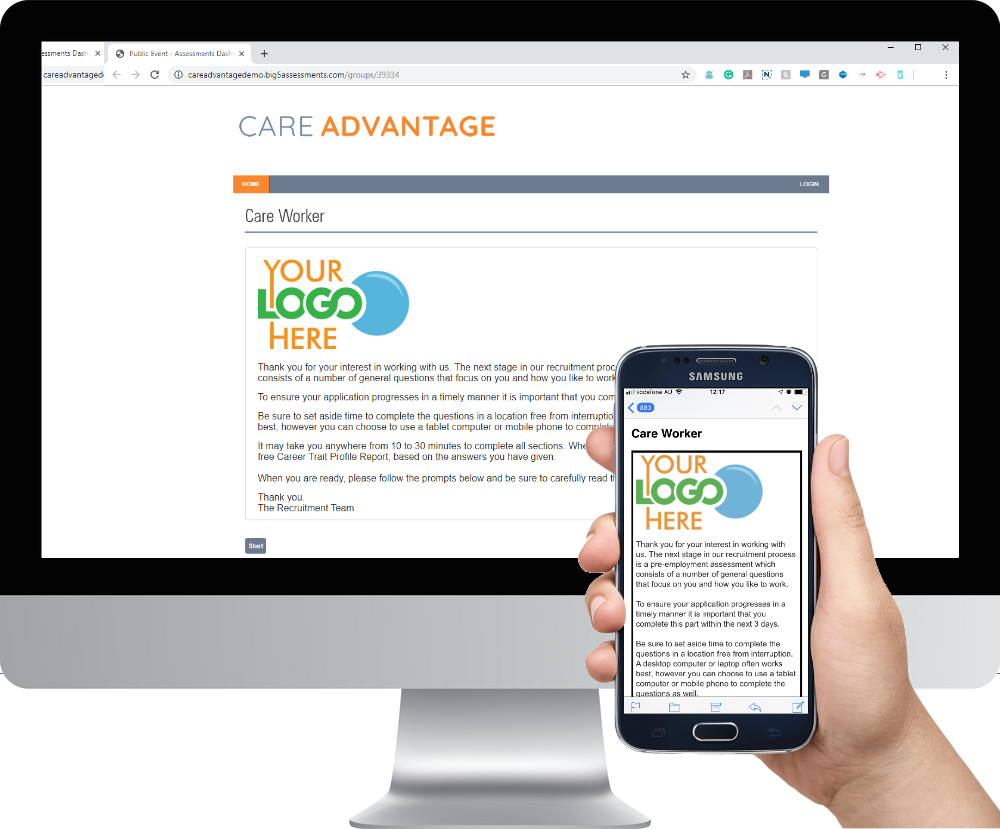 TIP! For a great candidate experience, we can switch on the option to automatically provide them with a free Career Trait Profile Report upon completion.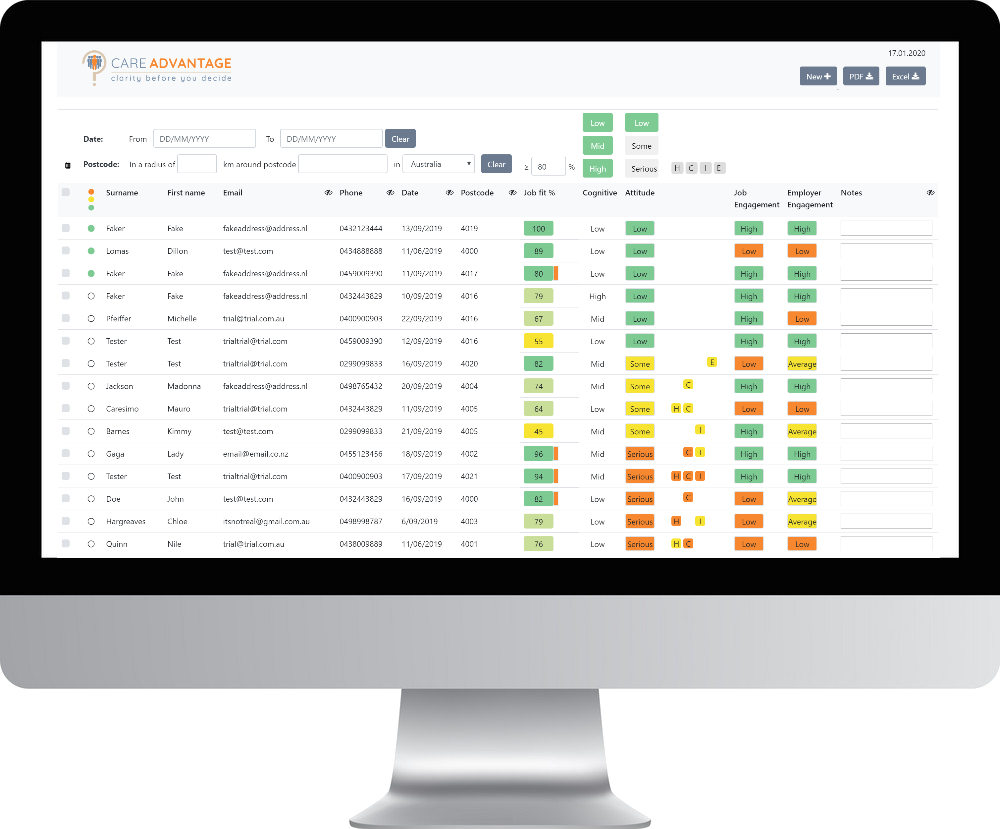 View Results
After a couple of days we will have a look at the (initial) candidate results together. We will show you the platform, the candidate results and which candidates are identified as "higher-calibre, lower-risk".
TIP! Now is the time to grab those resumes and start looking at them in the order that the Care Advantage results suggests. This should save you heaps of time and help you to quickly respond to the best of the bunch.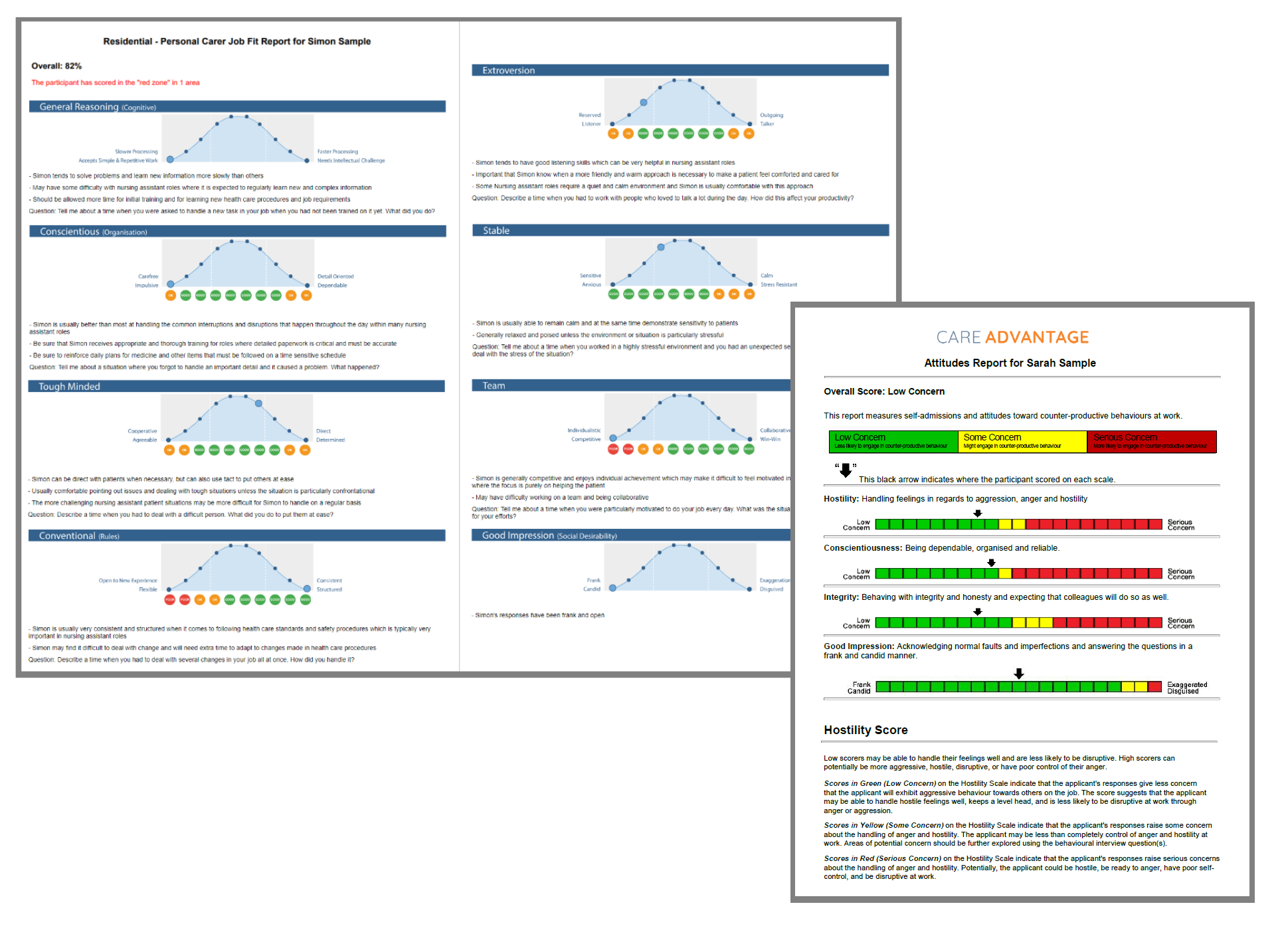 OPTION: If you decided to use the assessments on shortlisted candidates, you will automatically receive their PDF report pack in your inbox.
Full Access
We will then give you your own login details to your trial platform for you to monitor the assessment results and to continue the trial at your own pace.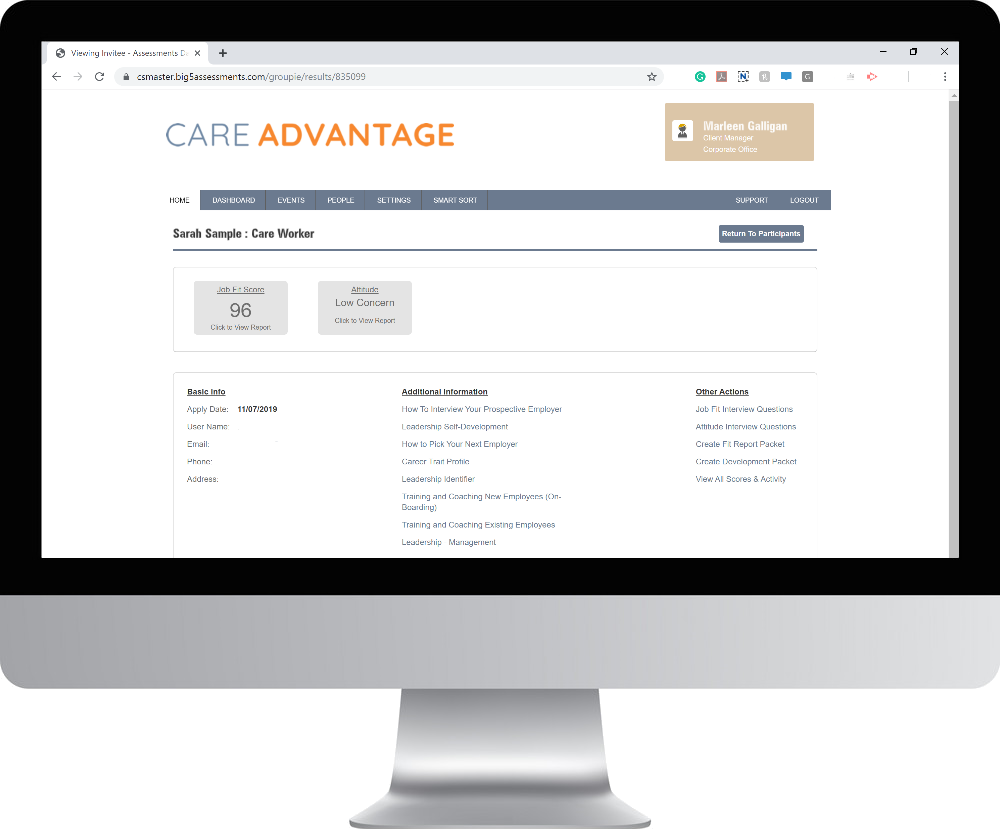 TIP! Feel free to explore the platform and use the screening for other roles. We will stay close-by to assist if needed.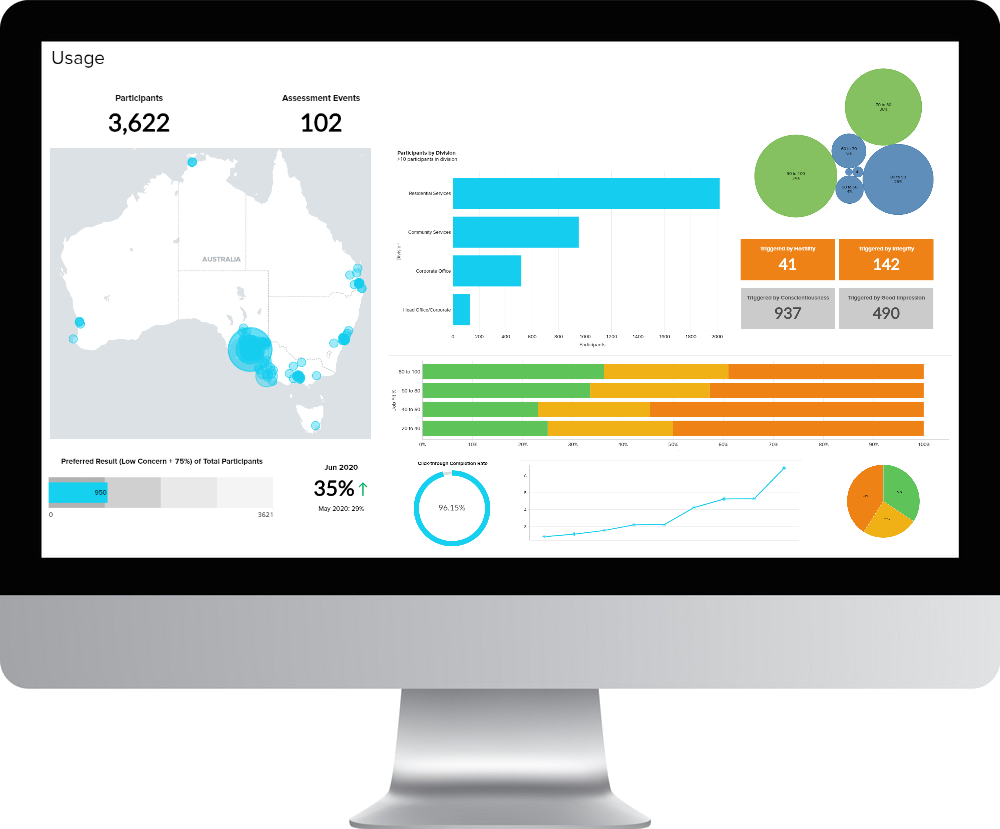 Analytics and Insights
At the end of the trial we will give you interesting trial stats to help you build your business case if needed.
Although most clients can't see themselves going back to their "old" way of recruiting, the trial is 100% obligation free.
"I was impressed by how quickly applicants completed the assessments and the speed with which we got their results. Almost instantaneously. This saved us a lot of time and was a big surprise. For one of the roles we were able to reduce the shortlisting phase by 2 days and overall, during the trial, have reduced our recruitment time-frame by about 50%."
"Not only have we been impressed by the shortlisting capability of the platform and the time savings, we also noticed a higher level of quality of the candidates. We tripled our intake as compared to before using the assessments. It's been really good. The platform itself is really easy to navigate and intuitive to use."
Kristy Furchtenight | Project Manager People & Culture
Assessed 158 Support Worker Applicants
"What surprised me most was how easy it was to use for our hiring managers and our candidates. The interface is simple and very intuitive and has a light touch which is perfect for recruitment. It's great value is that it creates value for the candidate, the hiring manager and the organisation."
"The service from Ross and Marleen was fantastic. Very responsive and supportive. The tool slotted neatly into our existing recruitment process and added value immediately. I was impressed with how aligned the metrics were with our needs and how useful the suggested interview questions are. I can definitely see Care Advantage reducing our time to fill and improving the overall quality of our appointments."
Matt Mulvihil | Manager People & Culture
Assessed 155 applicants for HR and Home Care roles
"The range and depth of the service available surprised me the most. The format of the assessments was easy to follow. Clear and concise. Definitely the best I have seen!"
Richard Budd | HR Manager
Assessed 12 Care Workers after an initial screen
"I was most surprised by the demographic information around job fit and attitude results for frontline care roles in different regional locations – of the candidates assessed, strong results in Central Coast/Hunter region – poor results in Canberra and South West Sydney region– with a new facility being built in Narellan this is concerning – Canberra is also a hot spot for home care packages. I love the speed to produce a target list before a resume is even seen. Also love the interview questions."
Theresa Weaver | Recruitment Coordinator
Assessed over 300 applicants for multiple roles
"The uptake of candidates completing the assessments has truly impressed us the most and I love that we can provide candidates with takeaway reports to thank them for taking part! We are finding that it is a really effective screening tool for large volumes of applications, by helping us to target those who were assessed as more suitable, faster, and by giving us some key areas to explore when the experience is all there on paper, but the assessments are showing some concerns."
Amanda Kontor | Recruitment & Retention Team Leader
Assessed 117 applicants over multiple roles
"I was most impressed by the amount of additional information that is given in the reports and other analysis options. The trial itself included a full demonstration and excellent customer service!"
Beverly Van Der Merwe | HR Officer
Assessed 98 applicants for different roles